Issue #23
November 1941
Rating: 5
I feel the new era of the Flash begins here. The circumstances of his origin are accidental. Perhaps even carelessness leads him to obtain his super speed. Early on, he seemed more interested in getting Joan's attention rather then contemplate the responsibility that he now must bear. He also finds himself helping old college buddies. Revealing his real name out of pride; 'See it's me – I've became someone important!' His adventures are more aloof and preformed out of indifference to any greater social good. The Flash's early adventures are full of rescues, but we don't get a sense that he really is conscious of his actions . . . until now.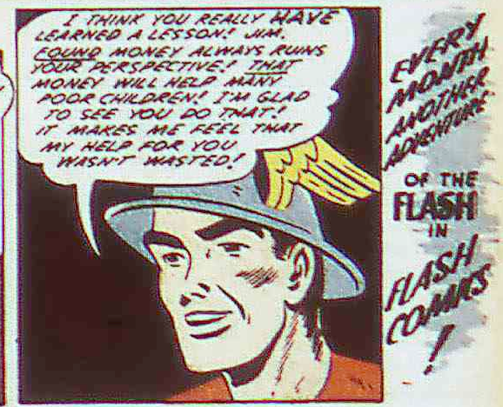 Up until this issue, the stories seem to be straight entertainment for children. Now, in the late summer of 1942, the editorial staff starts to give their characters throughout the title a sense of a unity that is needed to preserve the DC Universe.
This issue also is the first to use the term 'nazi'.
Although not united in the common cause yet, the Hawkman learns of his new ability to communicate with birds. This new self-awareness will serve him as his role in the changing world becomes more invaluable.